Talent Attraction and Retention
Under the challenges of the post-pandemic era and the transformation of talents from the new generation, Advantech has gradually adjusted and developed diverse and flexible recruitment methods to cope with changes in the talent market. We take "Right People on the Bus" as the core concept of recruiting talents, and emphasize the trait of "Altruism". We adopt the strategy of "we first find the right person and then decide what he or she should do", and let the right key talents work with Advantech to create a vision together. Also, professionals who possess innovative potential across a range of fields and functions by means of diversified recruitment channels and flexible recruitment projects are attracted to join the Advantech family. Advantech's goal is to attract, cultivate and retain altruistic and enthusiastic talents by providing outstanding talents with unlimited development space and diverse possibilities.
Advantech Featured Recruitment Program - Elite Series
With the core idea of "Right People on the Bus," Advantech utilizes the Elite Program to foster a deeper mutual understanding between the company and talented individuals. The Elite Program aims to identify critical talents (A Talents) and offers tailored recruitment activities based on different talent backgrounds. These activities range from industry-academic internships and entry-level positions to experienced industry professionals. Through a diverse range of Elite Program recruitment activities, Advantech invites targeted key talents to join the company.
Elite programs

Elite Champion - Recruiting high-potential talents for more than 3 years
Elite100 - Reserve young talents with work experience of under 3 years
Elite Internship - Internship for third-year university students and above as well as graduate students
EnLighting Workshop - Connect with high-level strategic talents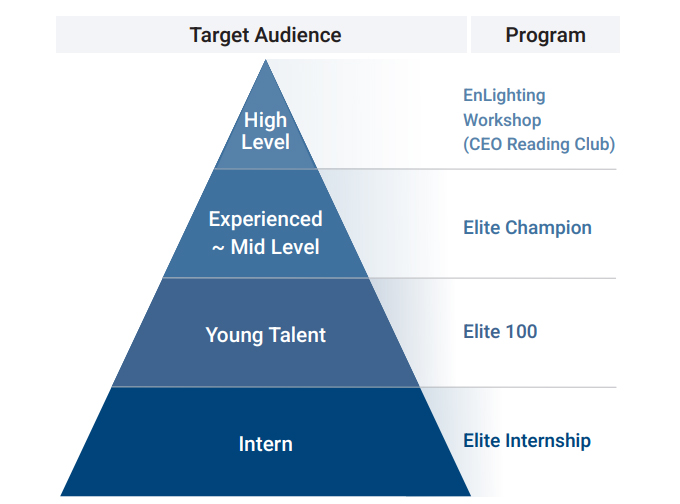 Talent Retention
Advantech products are available in small quantities and are diverse, emphasizing the industrial characteristics of innovation and flexibility. In addition, we have global operations to provide cross-field transfers, cross-border cooperation, and overseas work opportunities. Therefore, our employees are provided with multiple choices in their career path. Also, mechanisms such as promotion, performance appraisal, and employee development plans are continuously optimized to provide a stage for career development. Advantech launches a comprehensive of education and training courses to cultivate and cultivate outstanding talents. Also, we participate in market salary surveys to provide market competitive salaries. The selection of outstanding employees is held every year to affirm the outstanding performance of employees and enhance their sense of belonging. Moreover, Advantech is also committed to supporting employees' lives. Our colleagues are encouraged to learn with innovation, experience life, and give back to the society after working (please refer to Section 5.2 Employee Communication and Benefits) through Advantech's Happy Life ABLE Club. Employees are supported to meet the needs of long-term development and growth through rich and diverse programs.
Diversified Career Development Opportunities
Multinational Cooperation/Overseas Job Opportunities

Advantech's operations around the world can support the international development of our employees, and encourage our employees to post job vacancies at locations around the world. In addition, our employees at the headquarters can also cooperate with colleagues from different countries around the world to connect with international standards. Employees are provided with opportunities to broaden their international horizons and accumulate international perspectives in terms of working environment and development. Besides colliding with the perspectives of international teams, talents who embrace diversity and open their minds are cultivated to become more creative problem solvers and value creators. Advantech also encourages the conduct of cross-border projects so that participating employees can gain valuable experience.

Internal Transfers – My Career +

Advantech supports the long-term career development of our colleagues internally within the Company. Senior management leads and shapes a corporate culture that encourages internal transfers. In May 2022, an upgraded version of the internal transfer mechanism, "My Career +," was launched. The pipeline for our employees' functional growth and expansion is provided with a more open and transparent mechanism. Our employees are helped to expand their personal horizons and enhance diverse experiences to be cultivated as cross-departmental talents. My Career+ makes the transition process smoother. In addition to promoting the flow of internal talents and cultivating comprehensively excellent talents, it further achieves the goal of cherishing and retaining talents.
Development Program
Talent is the key dynamic of enterprise growth. Advantech regards employee cultivation and development as an important development project. We are committed to creating a working environment which can stimulate the enthusiasm of colleagues, develop the potential of individuals and teams to encourage employees to actively explore their potential and create an environment for continuous self-learning. The physical training program includes LEAP Camp, Elite LEAP Workout, reading club, and other physical training and development activities. In addition, Advantech continues to improve its comprehensive digital learning platform "Advantech Academy". In order to strive for excellence, the courses on the digital platform are diversified. It includes training courses for various levels of functions, inheritance and sharing of business philosophy, and training for middle and high-level management personnel. Advantech's staff create exclusive learning lists to be able to study anytime and anywhere according to individual needs.

Throughout the whole year of 2022, and covering more than 80% of employees in Advantech Headquarters (including headquarters business units, office units and Advantech Taiwan), China, Japan, South Korea, Europe and North America, total training expenses were NT$ 8,355,024; average training expense per person was NT$ 975; total online training time amounted to 413,649 hours, and the average online training time per person was 48.3 hours.

In order to further promote internal talent flow, the transfer, rotation, and secondment mechanisms will be optimized in 2023 to increase employees' career horizontal development opportunities and enhance their horizontal development experience for the sake of cultivating composite talent.

In 2022, the usage rates of our digital e-Learning The platform increased steadily. Moreover, ) Advantech College is expected to be transformed to enhance the user experience, and the external learning management system (LMS) are evaluated and imported simultaneously to enhance the utilization rate of the digital learning platform in 2023.
2022 Employee Training List