Company Profile
Since Advantech's establishment in 1983, we have played the role of innovator in the development and manufacture of high quality and high-performance computing platforms. Advantech provides comprehensive software and hardware system integration, customer-oriented design services, global logistics support, and other applications and services. Advantech was listed in Taiwan in 1999 and our operating headquarters is located in the Neihu Technology Park in Taipei, Taiwan. Our business base spans 28 countries in Europe, the Americas, Asia, and other regions.* Our three major manufacturing centers are located in Linkou (Taiwan), Kunshan (China), and Fukuoka (Japan). Furthermore, we have built four logistics management centers and 21 local service centers to provide global customers with real-time and comprehensive integrated services via a complete service system.
Organization Chart of Advantech
The industries that Advantech and its affiliated companies work on are mainly in the manufacture, assembly, sales and after-sales service of industrial computerrelated products. Some affiliated companies invest in related technologies and business activities connected to the aforementioned products to form their business scopes. The organization chart of the Company is shown in Figure.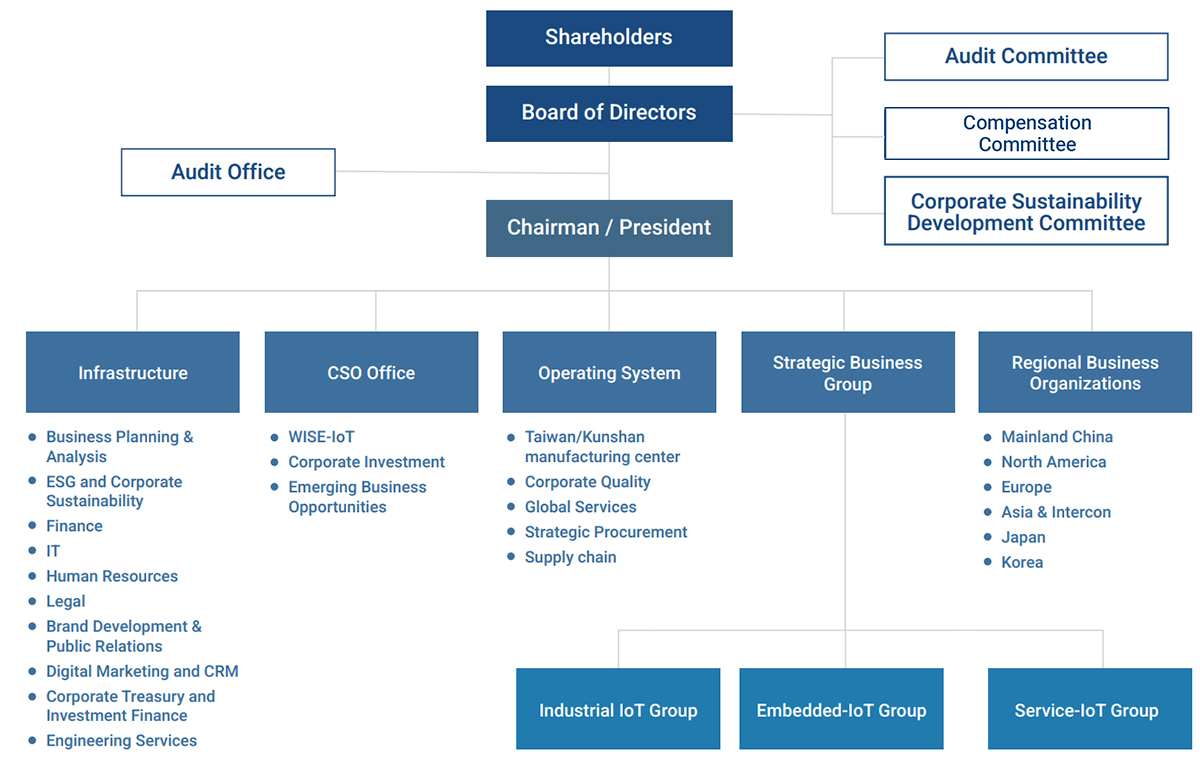 Distribution of Advantech's Operating Locations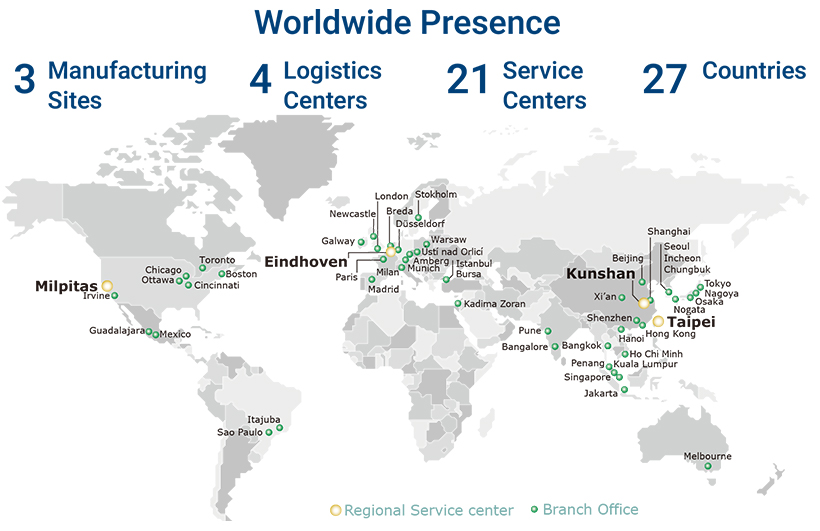 Economic Performance and Brand Value
In 2022, Advantech continued to create excellent report cards despite the challenges of global high inflation and economic downturn. The annual revenue in 2022 hit a record high again with a year-to-year growth of more than 17%. In terms of profit performance, the Company's gross margin, operating margin, and return on shareholders' equity have grown steadily in 2022. The annual EPS reached NT$13.85, and the Earnings Per Share (EPS) increased by 30%. Please refer to P64 and P84 of the annual report for the Company's product proportion and production volume information in 2022.
Advantech's Products, Revenue Distributions and Product Output in 2022

Advantech focuses on its business and financial stability, so our operations continue to achieve good results. Meanwhile, a high allotment policy is maintained to share operating results with shareholders. The total profit distribution in 2022 was NT$11 per share (including: NT$10 in cash dividends and NT$1 in stock dividends), a record high in the past years. The total distribution rate was nearly 80%, which also creates higher corporate value for shareholders. Please refer to the overall financial performance on the official website for detailed operating performance, including operating revenue performance, gross profit margin and operating profit ratio, return on shareholders' equity, and return on assets. Since our establishment, Advantech has continually focused on the management of our own brand and our brand value has been ranked among the top five international brands*in Taiwan for four consecutive years. The growth rate of brand value is as high as 23%, and we are one of the few companies that has achieved double-digit growth.
*Note: An evaluation was conducted by Interbrand, an internationally renowned brand evaluation agency commissioned by the Industrial Development Bureau of the Ministry of Economic Affairs. Please refer to the website
Corporate Governance
Composition and Operation of the Board of Directors
Advantech pays attention to corporate governance and the functions of the board of directors. Well rounded directors selection system are established, and the selection of board members is based on a policy of diversity. The comprehensive assessment is based on aspects such as industry background, professional field, age, gender balance, and so on in order to promote diverse perspectives. Its international market outlook, professional academic cultivation, risk management and other majors are considered. Besides, Advantech also incorporates expertise in the field of sustainability into the evaluation indicators for members of the board of directors. Directors are expected to have strategic contributions and practical experience in areas such as environment, information security, governance, and talent. They should also be constructively helpful to Advantech's ability to cope with the impact of sustainable operations. Director candidates follow a candidate nomination system as stipulated in the "Article 192-1 of the Company Act" with election by the shareholders' meeting from the slate of director candidates. Independent directors are recruited in accordance with the "Regulations Governing Appointment of Independent Directors and Compliance Matters for Public Companies", and the term of the board of directors is three years. The average tenure of the 14th board of directors as of the end of December 2022 was 10.14 years

The Company's 14th board of directors was elected at the general meeting of shareholders on May 28, 2020. It is composed of a total of seven directors, including three independent directors, accounting for 43% of all directors. Also, the number of companies with three independent directors concurrently serving as directors is less than four. In addition, the Company stipulates in the "Code of Governance Practice" that the minimum proportion of female directors is based on the principle of gender balance. Also, one female director (accounting for 14%) was recruited to the 14th Board of Directors, and this will be continued to be strengthened and promoted in the future. In terms of sustainability expertise, Director, Chaney Ho, was a member of the Sustainability Committee of Tatung Company (TWSE:2371). Independent director, Benson Liu, used to be the chairman of the Taiwan Corporate Governance Association and is also the current standing director of the association. Independent director, Chan-Jane Lin, is currently the supervisor of Taiwan Corporate Governance Association. The composition of the current board of directors is sustainable, and the sustainable function of the board of directors will continue to be strengthened in the future. The founder and chairman, KC Liu, is also the senior management of the Company. The Company complies with the "Rules of Procedure for Board of Directors Meetings" for avoiding interests, and meanwhile strengthens the perfect mechanism for balancing and decentralizing powers and mitigating conflicts of interest through joint management.

For the structure and diversity of the board of directors, please refer to the official website of the Board of Directors For the regulations on the minimum number of independent directors and female directors, please refer to the official website Corporate Governance Best Practice Principles
New Business Pattern of Co-Creation and Co-Governance
Advantech takes sustainable development as its concept and has laid a century-old foundation. Inheritance and succession planning for the next stage has become an important topic. Therefore, the best interests of the Company and shareholders are the premise. A "professional manager system" is the keynote. The growth mindset of "Equal Emphasis on Internal and External" has been implemented, and Advantech's phased deployment planning has transformed from the "founder's era" to the "co-governance era" in which ownership and management rights are separated. In 2017, Advantech officially appointed three vice-presidents, Eric Chen, Miller Chang and Linda Tsai, as "co-governance general managers". They are expected to uphold the spirit of "co-creation" and "co-governance" to lead the team to fully embrace the new business opportunities of the Internet of Things. The new co-governance formation also implements a more rigorous division of labor: the three co-governance general managers focus on market and business development, manufacturing and supply chain management, daily operation management, and capital expenditure planning. The Founder and Chairman, K.C. Liu, leads key strategic decisions, including corporate vision, new business layout, major investment strategies, etc. The succession issue of corporate inheritance has been listed as an important proposal of the SDC Sustainable Development Committee in 2023. Through in-depth discussions among the board of directors, senior management, and external consultants, the most suitable inheritance model for Advantech will be discussed in the future. Steady executive succession is expected to create higher corporate value for employees, shareholders, and customers
Tax Policy
Advantech holds the Lita spirit, a concept of altruism within the company, and expects to give back to society while growing the business. Therefore, we take it as our responsibility to contribute reasonable taxes to societies and economies where we conduct our business. We seek to comply with relevant tax laws and regulations but do not seek to conduct aggressive tax planning. According to Advantech Tax Policy, headquarters and its subsidiaries should abide by the following principles:
Act at all times in compliance with the spirit and the letter of the relevant tax laws and regulations in the countries in which we operate.
Advantech complies with Organization for Economic Cooperation and Development (OECD) Transfer Pricing Guidelines to prepare three-tier transfer pricing documentation.
Transfer pricing is set based on the "arm's length principle." Profits from each operating entity are reasonably remunerated for the risk and complexity of each entity's activities.
Advantech's major decisions are made mainly based on business purposes, and then supplemented by tax analysis to search for optimal solutions.
Do not engage in any arrangement that transfers value created to low tax jurisdictions or tax havens simply for reducing tax burden. Do not use tax havens or tax structures whose sole purpose is for tax avoidance.
Assess tax risk periodically and reduce it by negotiating Advance Pricing Agreement (APA) with local tax authorities in the countries Advantech generates high income.
Build mutually respectful relations with tax authorities based on mutual trust and communication, information transparency, and tax payment with integrity.
Revenue, Net profit before tax, tax information and number of employees in 2022 (Unit: NT$ thousand)

* Note:
1. Revenue, net profit before tax and tax information in this table are aggregated amounts from local entity statutory financial statements. Related-party transactions are not excluded.
2. Net profit before tax for Taiwan includes the income (loss) from the equity method investments.
3. For names of all the resident entities, please refer to the appendix on page 50.
The Group's effective tax rate and cash tax rate for 2021 and 2022 are as follows: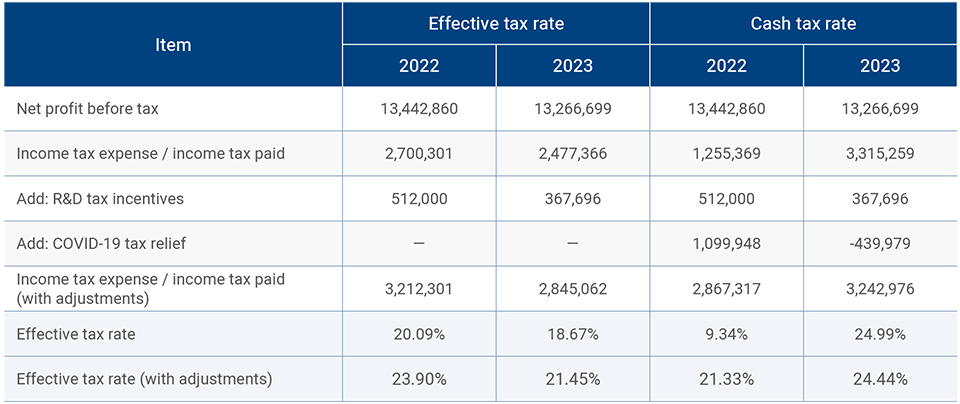 Source: FY2022 Advantech Co., Ltd. Consolidated Financial Statements (page 11-12); for income tax paid, please refer to Consolidated Statements of Cash Flows (page14)
* Note:
1. Effective tax rate = income tax expense ÷ net profit before tax
2. Cash tax rate = income tax paid ÷ net profit before tax
3. The discrepancy in effective tax rate is explained as follows:
The effective tax rate in 2021 and 2022 were lower than the industry group average. This was primarily due to tax incentives for research and development expenditures according to regulations under the R.O.C. Statute for the Upgrading Industries and Statute for Industrial Innovation. Also, the pre-tax super deduction of R&D expenses and the preferential CIT rate for the high and new technology enterprise in China. Excluding these factors and the influence, adjusted effective tax rate were close to the industry group average.
Apart from the factors mentioned above, Cash tax rate were also affected by timing differences, such as advance payments and tax policies in different countries (e.g. COVID-19 payment deferral that up to 36-month installments in Taiwan) Excluding these factors and the influence, adjusted cash tax rate were close to the industry group average.
FY2022 R&D tax incentives amount was estimated
Taxation Governance
Advantech is subject to tax laws and regulations in the various jurisdictions in which it operates or conducts business. Changes in tax laws and regulations will increase tax liabilities and compliance burdens, which will have an adverse impact on business operation. In order to effectively manage tax risks, Advantech complies with the tax laws and regulations; understands the tax liability and compliance status; identifies potential tax risks; prioritizes the issues and handles them on case-by-case basis. Technology tools are also been used for effective tax management. Aforementioned tasks and results are regularly reviewed by the management. The strategy development of global finance and tax is led by the management, who delegates day-to-day responsibility to headquarters finance manager. Local accounting teams execute the tax filings complying with tax laws and regulations. In addition, Advantech also engaged external tax consultants and CPA firms for tax reporting and compliance services. Advantech's Audit and Risks Committee is delegated by the Board to oversee the quality and integrity of the accounting, auditing, and financial control practices of Advantech through periodic review of certain major matters, including accounting policies and procedures, internal controls systems, legal compliance, and corporate risk management, etc. Advantech's Tax Policy is reviewed in the Audit and Risks Committee and approved by the Board.
Integrity Management: Compliance with Laws and Regulations, Anti-Corruption and Anti-Competition
Integrity management is an important part of the internal control mechanism of corporate governance. Advantech shall identify various laws and regulations in advance. Furthermore, we communicate with relevant internal units and measure the formulation and implementation of the Company's relevant rules in order to comply with regulations and practice smoothly. The concepts of compliance with laws and regulations, anti-corruption and anti-competition in honest management are closely related to social responsibility and the Company's reputation, which are also one of the key points of Advantech's sustainable management. In accordance with the anti-corruption provisions of the Advantech Code of Ethics and Business Conduct, establishment of "Advantech Global Entertainment & Gift Policy" aims to further clarify the boundaries of business communication.

The total number of trainees for the online ethics and business conduct test is 5,536 according to the 2022 report on Ethics And Business Conduct Management. The data of completion rate are as follows: 95.8% in China, 98.3% in Taiwan, 96.1% in Asia, 93.6% in Europe, 95.0% in the United States, and 99.2% in others. The annual completion rate target is 96.8%, and 95% of the original target has been achieved.

Advantech is committed to ensuring that all business activities are legal, ethical and transparent. Advantech believes that the anti-corruption policy is an extremely important measure. It aims to protect the Company's reputation, the interests of customers and the interests of employees to ensure the Company's long-term and stable development.

Advantech has established "Advantech Business Conduct", and the clauses are formulated to implement the relevant requirements of Company's policies included anti-corruption. Also, Advantech has formed a risk management committee. Relevant risks are regularly assessed to avoid possible disadvantages to the Company. Furthermore, Advantech may also take relevant measures to terminate, prevent or mitigate corruption. It thereof includes the education and training of the annual mandatory "Advantech Business Conduct" for the employees, and the establishment of an internal control system to track corruption and so on. In addition, in order to ensure the legality and morality of business activities, Advantech requires suppliers and partners to comply with relevant anti-corruption measures