Vision and Promise
In response to UNDP's SDG 9 (industry, innovation, and infrastructure) and SDG 12 (responsible consumption and production), Advantech has established various eco design goals pertaining to raw materials, product design, manufacturing, and environmental management. We have introduced various standards aimed at improving the environment, minimizing environmental impacts from operations.
Management Guidelines for Major Topics/Management Structure
Materiality
Materiality

We are committed to improving the Company's overall product green design standards. Environmentally friendly and high-efficiency products are provided to commit to longterm operation and create a sustainable supply chain. In this way, the responsibility of green product management is fulfilled. Internal standards were gradually raised. It includes the improvement of energy efficiency of products, the adoption of green materials and packaging materials, and the principles of easy disassembly and recycling. Meanwhile, Advantech's overall competitiveness has been enhanced to meet the requirements of international and environmental regulations. We work with suppliers, downstream system integrators and strategic partners to produce low-carbon and environmentally friendly products, which is the goal of green products.

Management Strategy
Management Strategy

ECO design principles has been spread to more product lines. From the aspect of products' energy saving, all aspects of inspection are comprehensively introduced in the new product development process in order to increase the proportion of green product revenue.
The green design reward and process system has been fully extended.
Systematic management (Dashboard) is to establish a visual green product board to improve the performance of Advantech's green products.

Policy or commitment
Policy or commitment

In respect to the global Sustainable Development Goals, Advantech is responding to SDG 9 (Industry Innovation and Infrastructure) and SDG 12 (Responsible Consumption and Production). Starting from raw materials, product design and extending into anufacturing and environmental management, we are gradually setting goals and introducing each item of the standards. We thus are willing to do our best to improve the environment, reduce environmental impact, and produce environmentally friendly products.

Description of impact
Description of impact

In order to improve the Company's overall green design standards and requirements, the Company may need to invest more research and development resources and expenses in the short term. Moreover, R&D design may encounter a high threshold to break through. However, in the medium and long term, investing in green product design and fulfilling corporate responsibility for environmental sustainability will have a positive impact on the overall environment and economy. Advantech's overall sustainable competitiveness can also be enhanced. Also, the expectations of stakeholders and customers are met. In this way, we align ourselves with leading sustainable enterprises and attract outstanding talents to join us.
The decision-making process of material selection and product design is considered in all aspects of green design. The sustainable transformation of internal R&D teams and suppliers is gradually driven to reduce possible environmental pollution and impact. In addition, the increase in the number of product labels that disclose green design to the outside world can enhance Advantech's image and goodwill in corporate sustainability. The impact of environmental protection and energy saving awareness on the Company's operations and sales can also be reduced. The potential loss of losing customers can be reduced by complying with the requirements of international regulations and independently improving the green design of products. In addition, the data of product recyclers are verified and counted through third-party units with plans of life-cycle thinking. Environmental impact and pollution caused by improper handling of product raw materials and waste are therefore avoided.

2022 Achievement Status
2022 Achievement Status

100% of raw materials continue to achieve the compliance with mandatory international regulations and Advantech's standards for regulated substances. A total of 41 models of products complying with energy-saving design have reached the goal set last year.
The achieved quantity of standard products in the newly opened case is 3 models (silver medal). Mass-produced models have introduced 21 models in the next generation of models, reaching 20% of the target set last year. (Several models among the newly developed models are currently under design and development).

2023 Goals
2023 Goals

100% of raw materials continue to achieve the compliance with mandatory international regulations and Advantech's standards for regulated substances.
The new models of all standard products must meet the specifications of energy-saving design
The mass-produced IPC system products are strategically introduced into power-saving gold power supply and contributes 8% of revenue
Overall goals: Eco design new products (four standpoints) achieved silver medals or above reaching 50%.
The mass-produced IPC system products are introduced into eco design (four standpoints) and contributes 8% of revenue.

2025 Goals
2025 Goals

100% of raw materials continue to achieve the compliance with mandatory international regulations and Advantech's standards for regulated substances.
The Energy Star/internal energy-saving high standard gold medal for new products of a specific product line reached 20%.
The mass-produced IPC system products are introduced into powersaving gold power supply and contributes 15% of revenue.
Overall Goal: Eco design new products (four standpoints) achieved silver medals or above reaching 80%.
The mass-produced IPC system products are introduced into eco design(four standpoints) and contributes 8% of revenue.

Action Plan
Action Plan

Examination of Product Development Stages is included in the publicity of all aspects of green design.


Source management meets the requirements in the development stage with a view to achieving 2023 green design product revenue accounting for more than 10%.

Efficient power modules are introduced into the product strategy.


Using energy saving and high conversion efficiency to improve from the source. Advantech plans to improve the replacement strategy for power modules in the next three years, which was introduced into mass-produced hotselling products.

Specific product lines are introduced with Energy Star certification in combination with the energy-saving management software to improve environmental performance


Display / Panel PC / Portable, and software are prioritized to be introduced as the scope, and modules for energy-saving management are developed and designed to be evaluated which can be deployed on Advantech products to improve environmental performance.

Evaluation of effectiveness
Evaluation of effectiveness

Regular check


The ESG team regularly review the progress every two weeks. Also, the direction of execution is adjusted in real time to ensure the compliance with the effectiveness of the strategy.

External resources support and learning from experience


Introducing external resource when necessary, also verified the progress and the target.

Stakeholder Engagement
Stakeholder Engagement

Advantech will continue to strengthen product green design and engage the stakeholders. No significantly negative impact was caused by this topic. Therefore, there was no remedial measures.
Phased Achievements and Future Goals of Eco Design
The energy-saving part of the eco design products self-announced by Advantech has all been required to comply with the ErP international standard requirements starting in 2022. Starting from this aspect, it includes other aspects of internal inspection with high standards in 2023 to expand the scope of eco design products in addition to energy saving of products. The green competitiveness of enterprises is then enhanced through the research and development of green products.
Direction of Goals: In 2023, More than 50% of the eco design products achieved silver medals of internal self-announced label.
Phase of Goals


Highlighted Projects or Performance Figures

Eco Design
Eco-Product following the LCA life cycle
Advantech has always adhered to the concept that products shall follow a life cycle. We anticipate using life cycle assessment (LCA) and product carbon footprints to quantify the impact of Advantech's products on the environment. The assessed projects include the carbon emissions from the selection, manufacturing, distribution, use and final disposal of upstream raw materials. Also, carbon reduction targets will be further set and taken actions to implement the reduction, which will be incorporated into the Company's operational management goals.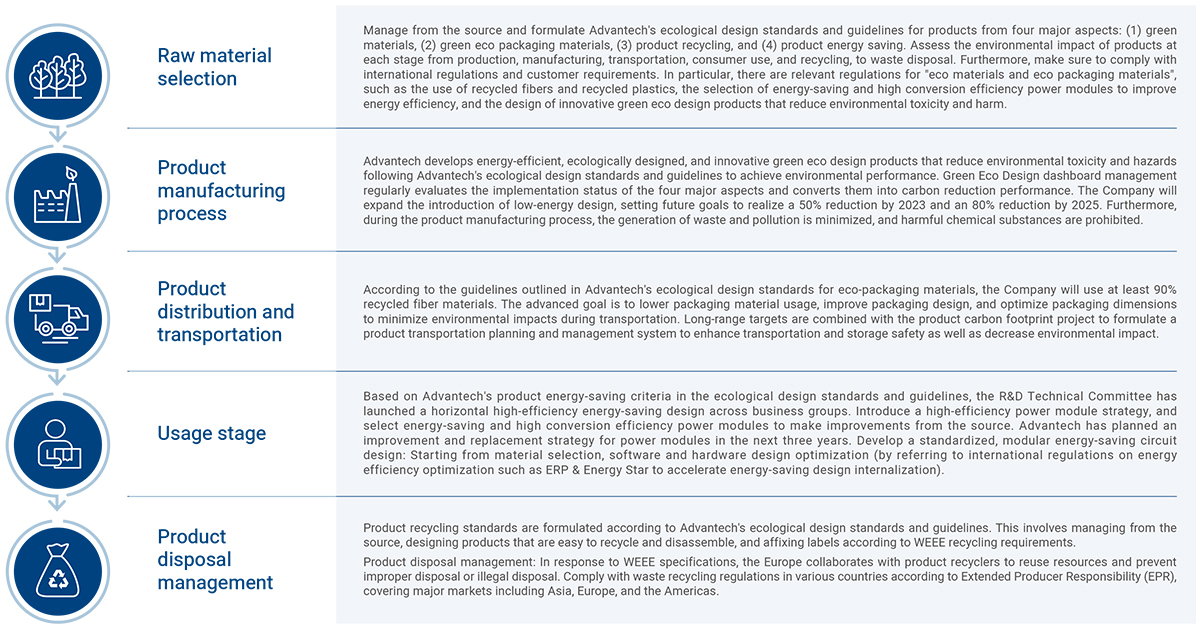 Advantech has planned to obtain the first product carbon footprint certification in the second quarter of 2023. The material selection depth of the product is evaluated through the product life cycle (LCA) to identify the top 5 key carbon footprint materials. Moreover, the establishment of Advantech product carbon footprint inventory methodology will be completed in Q2. The basis for an internally developed product life cycle assessment (LCA) will be established as well. In the future, we will gradually complete the carbon footprint inventory of representative products of each business group as a material selection mechanism for the development of low-carbon products. The SPC-815 series products were selected as the first carbon footprint products.
Eco-Product Target setting
In the second half of 2020, Advantech formulated an eco-product innovation design project to promote Green eco design standards and guidelines to R&D units. Since then, the Company has been committed to encourage the adoption of eco design innovation processes and invited product department proposals to participate in the internal selection.
We introduced the innovative design process of eco-products in stages while setting short-, medium- and long-term goals. In 2021, we completed our formulation of four product standpoints material/packaging/recycling/energy saving) and established an inspection system. In 2023, our target is that 50% of newly developed standard products should comply with eco design with full implementation, and 80% of new products should meet the requirements in 2025.
Eco Product Design Management Mechanism
From the four product standpoints of (1) green materials, (2) green package materials, (3) product recycling, and (4) product energy saving, we design innovative eco products by formulating standards to evaluate environmental impact of products from the selection of raw materials, production and manufacturing to transportation, consumer use, recycling, disposal, and so on in compliance with international regulations as well as our customers' needs.

Interdepartmental Committee
We set up an Eco Design Management Committee, with Advantech's Project Management Optimization (PMO) convening relevant departments to formulate standards and to oversee their implementation, management, and inspection.

Setting of Standards
Based on international environmental regulations or international assessment tools (such as the US Electronic Product Environmental Assessment Tool (EPEAT)) as well as our experience in serving brand customers, we have formulated and promoted Advantech's Green ECO Design Standard Guidelines for energy efficiency, eco-design, and reduction of environmental toxic hazards. Furthermore, we provide tools for inspection standards that will offer gold medal and silver medal labels when passed.
Examination of Product Development Stages
With management from the source, system products such as IPC, Server, and Display will be fully included in the internal inspection of the four aspects of green eco design in 2023. We set up relevant departments in the design and development stage to ensure quality and adherence to eco design goals.
Decision Check Points in Development Stages of Eco Product Innovation Design Projects

Eco Design Award System
We continue to offer rewards to encourage colleagues within the company to design environmentally friendly eco products and to achieve eco benchmark products of Advantech in 2022.

Performance
A list of Advantech's 2022 eco design product silver medal/Advantech energy saving label product is as follows. After many years of hard work, our policy is to design energy efficient, energy saving, carbon reduction, low environmental toxicity hazard, easy assembly and disassembly, and recyclable products. These policies are implemented in the eco design thinking of each phase in the product life cycle, and the performance of circular economy is concretely presented. In addition, USA Energy Star/ the revenue of Advantech's green design products with silver medal, energy-saving label products was account for 3.10 % in 2022. It has grown more than 6 times compared to 0.46% in 2021, and the target for 2023 is set at 10%. Advantech encourages our employees to design products which can improve energy efficiency, save energy and reduce carbon emissions, reduce environmental toxicity and hazards, be easy to assemble and disassemble, and easy to recycle material resources. Also, an internal bonus reward mechanism was set up, and honor certificates were awarded. Guidelines are set for incentive mechanisms for internal green design. The evaluation includes four aspects of green eco design products: green materials, green packaging materials, product recycling, and product energy saving. After the annual settlement in 2022, award-winning employees will be awarded with certificates and bonuses. The proportion of revenue of products that achieve the Silver Medal of Green Products/Advantech Energy Saving Label in 2022: 3.10%
Revenue Contribution Rate of Advantech's Green Products in 2022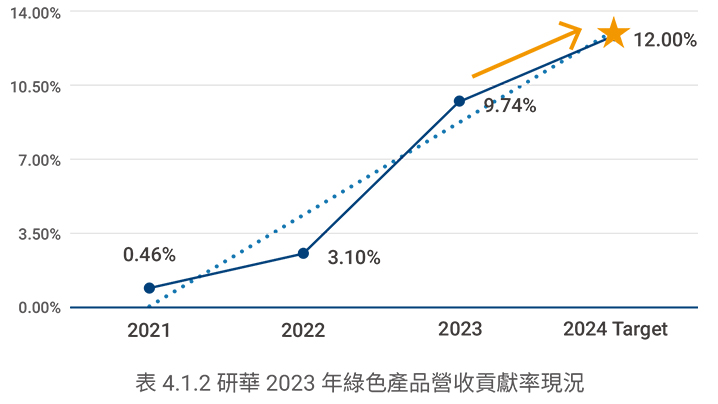 Product Liability
Advantech established Green Supply Chain management in 2010. On this supply chain platform, suppliers must promise and guarantee that their products do not contain harmful substances listed by the Company, and supporting documents shall be provide for future reference. We optimize this platform every year, activate the database, and form an effective green supply chain. Advantech has introduced its hazardous substance management system since 2010. We uphold the spirit of strict quality management, continuously controlling every aspect of product responsibility. The products of Advantech are all in compliance with relevant regulations.
Green Supply Chain Management Platform GPMS
Green Supply Chain Management Process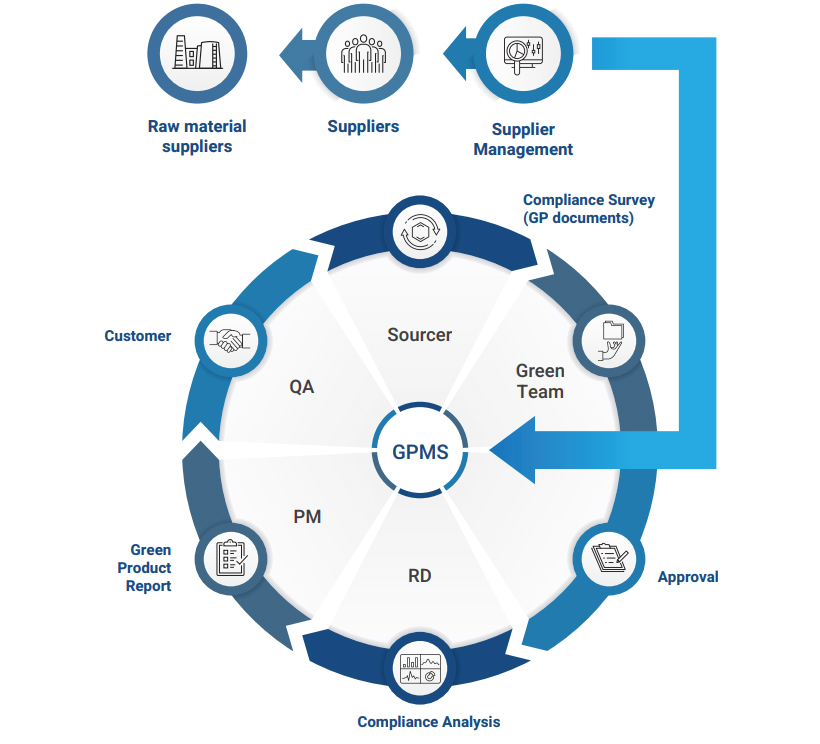 Advantech's Green Policy - Hazardous Substance Reduction Program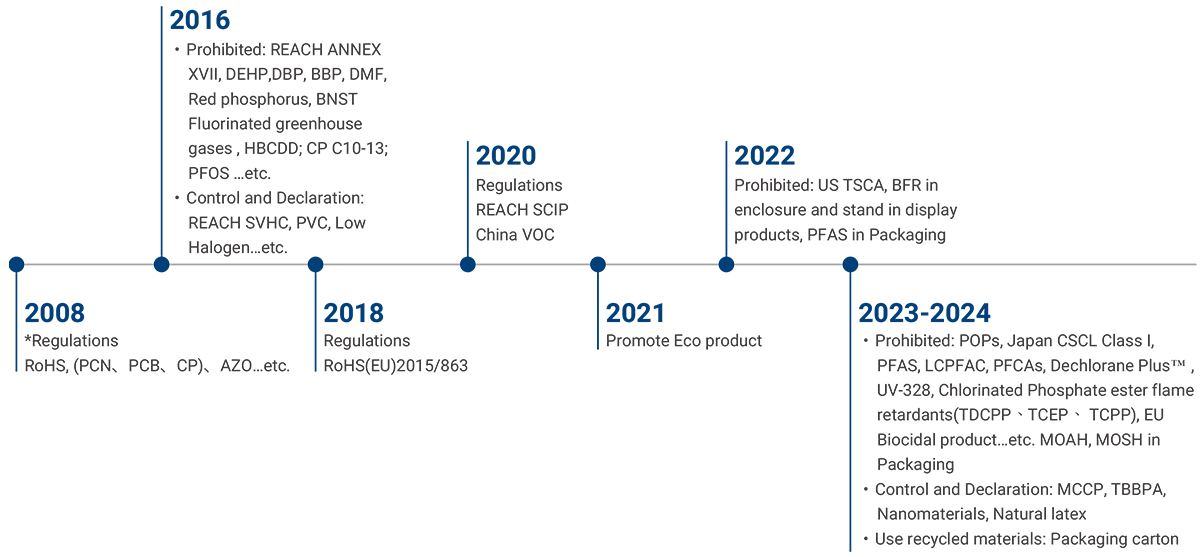 Advantech reviews the current status of hazardous substances management every year in accordance with international regulations, customer requirements, and trends in environmental protection in order to reduce environmental and ecological impact, fulfill corporate responsibility for environmental sustainability, meet the expectations of stakeholders, and continue to adhere to the requirements of international regulations. We have thus formulated Advantech's Green Policy (Hazardous Substance Reduction Program), and we regularly update Advantech's eco product rules for the management of hazardous substances. These in turn are managed through an green supply chain management platform.
Responsibility for Product End-of-Life : Product Recycling
The design consideration of "recyclable, easy to disassemble, low pollution, and energy saving" for easy recycling is injected into the early stage of product design. Reuse and recycling of electronic products is facilitated through legally required recycle programs. We uphold the spirit of producer responsibility to commit to the recycling and management of electronic waste.

EuropeIn response to the specifications of WEEE and sustainable product design and development, we re-examined our cooperative product recyclers and start to replace those located in Europe at the end of 2020. In 2022, the inspection of product shipments and recycling was expanded recycling countries were expanded from 8 countries to 20 countries). We retroactively revised the 2019-2022 data, and calculated the tonnage of product recycling based on the annual effective recycling data of countries provided by the recyclers. According to the calculation of the following methodology, a total of electronic products with a total weight of about 1005 metric tons was recycled in Europe in 2022, as shown in the table below with retroactive revision of the 2019-2022 data. Advantech's products are equivalent to the customer's WEEE electronic products of the same category. Therefore, the client's WEEE calculation tool was used to make the estimate.
The detailed data of other regions have not been checked this year, and it is expected thatthe retrospective data will be presented when the inventory plan is added in the future.

TaiwanThe recycling of electronic waste in Taiwan is a public operation. Also, recycling can be done through cleaning teams and resource recovery agencies. Business operators pay the resource recycling management fund based on the annual business volume and the rate of recycling and disposal fees. The fund is managed by the Environmental Protection Administration of the Executive Yuan, R.O.C (Taiwan). In the future, the planned inventory and interrogation will be expanded to cover other countries, and the main sales markets include China, Japan, and the United States.