Goals and Strategies
Advantech's business philosophy is to create a win-win situation with suppliers and customers by establishing a sustainable IoT supply chain ecosystem and always ensuring ethical and environmentally compliant supply chain and production principles. The Company belongs to the industrial Internet of Things industry service category, mainly involving the process of purchasing components from upstream component manufacturers, assembling and manufacturing them in the Company, and then delivering them to customers. Due to the characteristics of the industry, the Company purchases a wide variety of items that are highly customized. At present, supply materials in the supplier database number in the tens of thousands or more. Advantech regularly conducts supplier assessments through our procurement and quality assurance units to ensure the stability of the supply chain and supply quality. In addition to regularly evaluating suppliers for their product quality, on-time delivery rates, cooperation, industrial safety management, business conditions, ESG management, and so on, we also engage in instant communications with them as we strive to impart the concepts of Corporate Social Responsibility and Supply Chain Sustainability Management into supply chain assessment standards. In this way, we cooperate with suppliers to create high-quality products and services and create sustainable value. In addition, dvantech's Chief Operating Officer regularly reviews the procurement practices and management performance of the supply chain at the Meeting of Corporate Operations (MCO). The goal of sustainable supply chain management is expected to be achieved
Advantech's Industrial Value Chain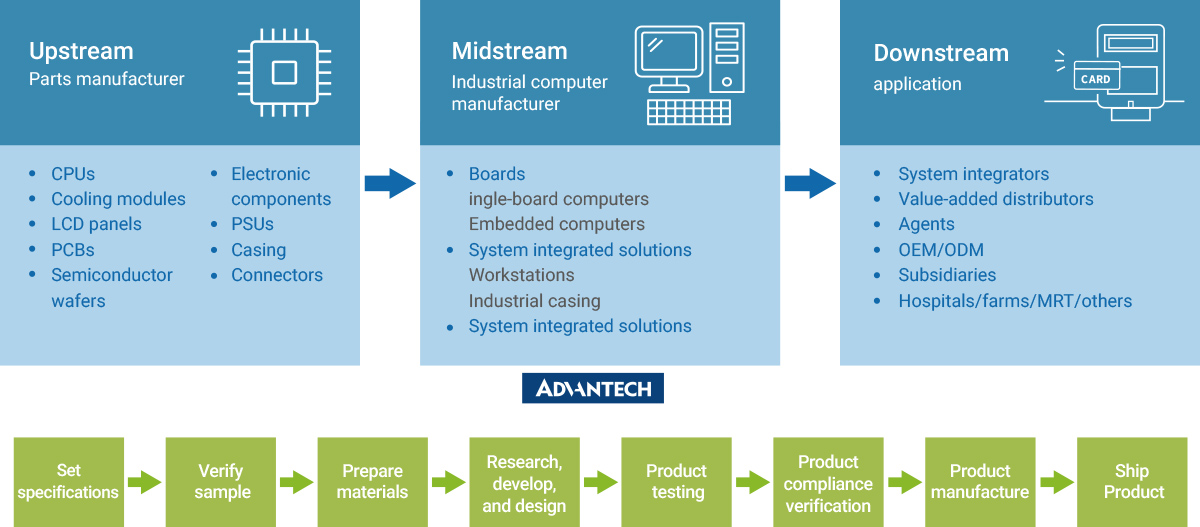 Management Guidelines for Major Topics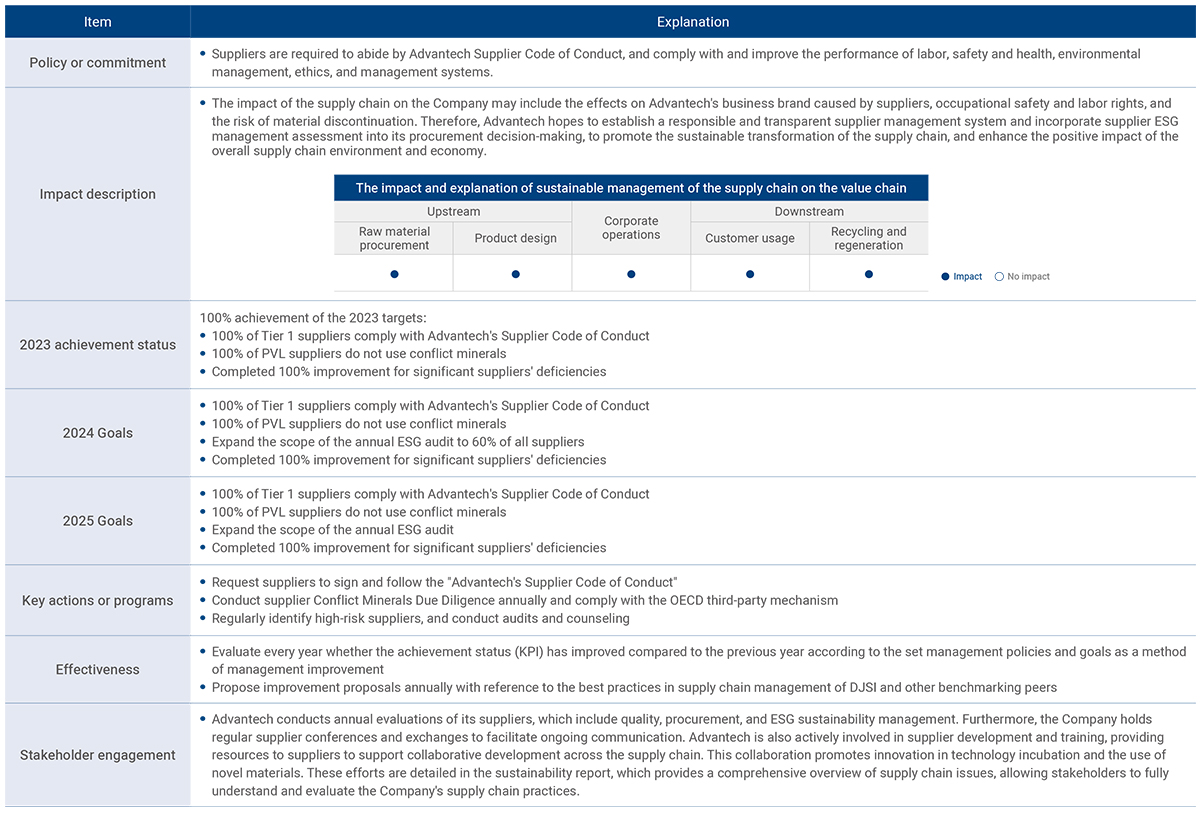 Goal of Sustainable Supplier Relationship Management

Short- and Medium-Term Goals of Supply Chain Sustainability Management
*Note:Short- and Medium-Term Goals of Supply Chain Sustainability Management
Project Highlights / Performance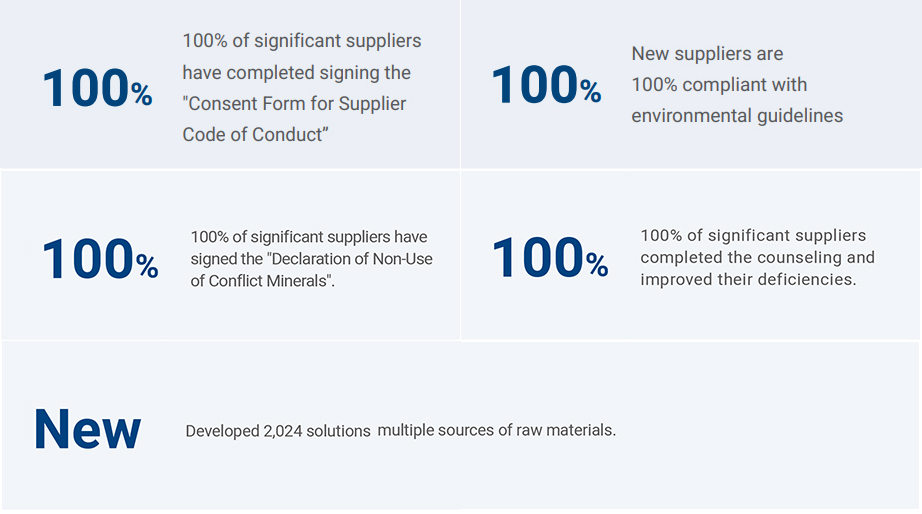 Supplier Composition
Advantech's product portfolio is diverse and flexible. Such products are widely used in IoT embedded computing, industrial computers and their peripherals, cloud computing and industrial automation, communication systems and other fields. Therefore, the supply chain is also flexible, diverse and closely related. The raw materials in the supply chain include ICs, printed circuit boards, electronic components, wires, plastic parts, metal parts, packaging materials, etc. Advantech's main suppliers are divided into raw material and packaging material suppliers, as well as contractors for maintenance, cleaning, engineering, and so on. Raw material suppliers thereof have a clear impact on operations and production. Therefore, Advantech further divides raw material suppliers into two categories according to their attributes, encompassing suppliers of direct materials (materials directly related to production) and packaging materials (materials or packaging materials not directly related to production). In order to effectively manage raw material suppliers and resource allocation, Advantech screens suppliers with high annual purchase amounts, key raw materials, and irreplaceable suppliers to make up the Preferred Vendor List. Also, we also identify supplier groups with high sustainability risks through ESG assessment. These two types of suppliers are significant suppliers defined by Advantech. Advantech currently identifies 271 significant suppliers. Its purchase amount accounted for 71.4%.

Supplier Procurement Distribution in 2022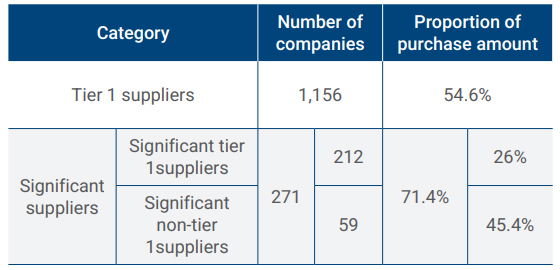 Distribution regions of raw material suppliers in 2022

Support for Local Suppliers
Advantech continues to use localized procurement strategies in order to establish close relationships with local partners and create local employment opportunities while also reducing carbon dioxide emissions to the environment during manufacturing and transportation. Over the years, our procurement has always been based on local suppliers and products comply with RoHS/HSF specifications. Overall, Advantech Taiwan's local procurement amounted to NT$16.38 billion with a ratio of about 81% in 2022. Local procurement at Advantech Kunshan Manufacturing Center reflected the fact that some electronic and peripheral raw materials were purchased by Advantech Taiwan. The local procurement ratio only accounted for about 46% of the total amount*, and the overall local procurement ratio was 69%. Figure 2.3.2 shows the proportions of the Company's local purchase amounts in recent years.
Proportions of Local Procurement for Advantech Taiwan and AKMC in 2021-2022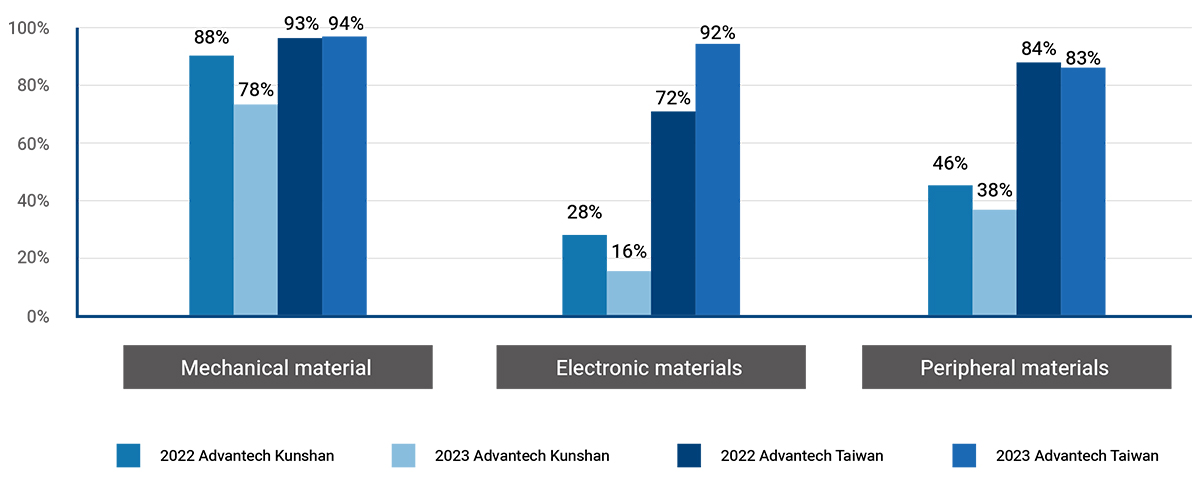 *Note:
1. Local procurement definitions: Advantech Taiwan – transaction counterparty is a manufacturer having a uniform invoice number for a for-profit enterprise in Taiwan; AKMC – transaction counterparty is a domestic manufacturer in mainland China.
2. The decrease in the proportion of local procurement of electronic materials in Kunshan is mainly due to the switch to a self-purchasing strategy in 2020. However, most of the self-purchasing suppliers are agents registered in Taiwan.
Supplier Management Strategy
Advantech starts from the new supplier recognition stage; that is, we require suppliers to sign a purchase contract to ensure their delivery, quality, and warranty specifications. suppliers are thereof required to make immediate notifications on the delivery delays caused by natural and man-made disasters.

The Company's procurement strategy adopts an approach of sourcing supplies from over two suppliers, in order that they can be replaced and compete with one another so as to diversify procurement risks and reduce costs. For electronic parts with high commonality, Advantech has established a second source management mechanism. Safety stocks are also established for primary materials to avoid risks caused by material shortages or quality problems. Advantech differentiates by material grades in assigning dedicated procurement colleagues to analyze market information and regularly review market dynamics through weekly and monthly meetings. Furthermore, we adopt a centralized procurement strategy, establish a Preferred Vendor List, improve cooperation efficiency through convergence and concentration, and then obtain high quality materials and stable delivery.

In addition to paying attention to suppliers in terms of cost, quality, delivery, continuous supply, and so on, we have formulated the Advantech's Supplier Code of Conduct and require that suppliers comply with it. Advantech requires suppliers to sign a Supplier Code of Conduct Acceptance Form. In addition to requiring full compliance with the laws and regulations of the countries in which we operate, we also put forward regulations on business conduct in terms of labor rights, health and safety, environment, corporate ethics, management systems, and other aspects. Meanwhile, suppliers are also required to communicate these requirements to their next-tier suppliers and monitor the compliance of these next-tier suppliers.

In addition, from 2021, Advantech stipulated that materials suppliers should complete an ESG sustainability risk assessment survey that covered legal compliance, sustainability management, supplier management, conflict mineral management, environmental protection, health and safety, labor rights, human rights, and so on. In order to grasp the sustainability risks of suppliers, on-site audits shall be conducted when necessary to ensure that the sustainability of suppliers meets our standards. Therefore, the key suppliers selected by Advantech as the main procurement targets must be manufacturers with a score of 80 or more (accounting for 26.67%) through ESG in addition to basic cost, quality, delivery time, and continuous supply. Meanwhile, Advantech expects suppliers to continuously improve their sustainable performances. Therefore, we requires and encourage existing suppliers and new suppliers to obtain relevant international certification standards such as ISO 9001, ISO 14001, ISO 45001, ISO 14064-1, QC 080000, IATF 16949, and ISO13485

Supply Chain Risk Strategies and Countermeasures
Supply chain disruptions (including those for raw materials and machinery equipment) would affect the Company's operations and our commitments to customers. Therefore, in terms of sustainable risk control, we require our suppliers to take the Advantech Supplier Code of Conduct as the basis for action to labor rights, safety and hygiene, environmental protection, business ethics, and management system performance, while continuously reducing the risk of operational interruptions. Furthermore, Advantech has formulated risk response plans to ensure that there are measures in place when risks do occur. Please refer to Figure 2.3.3 for details.
Advantech's Supply Chain Risk Response Plan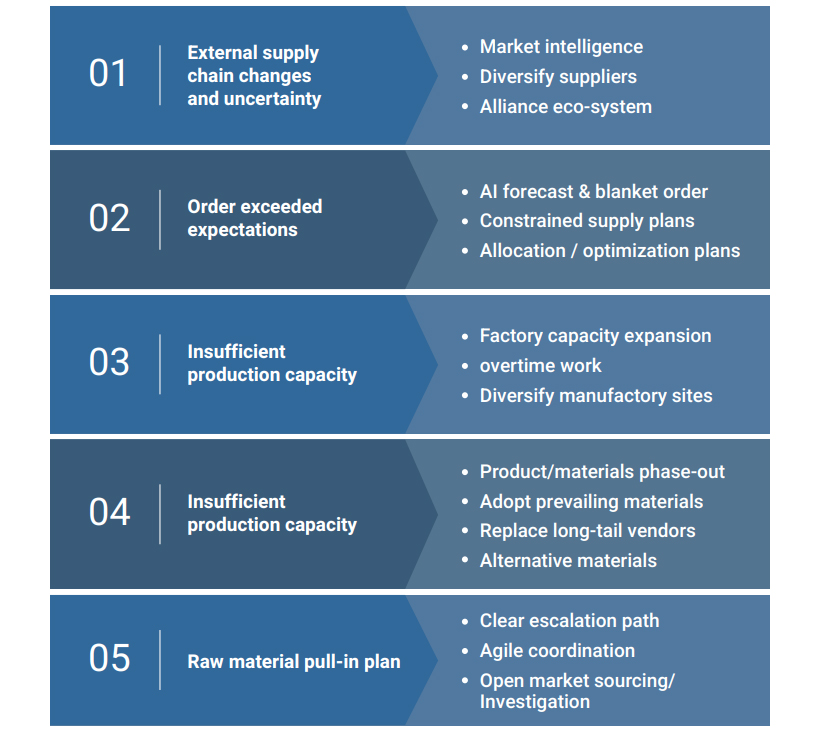 Sustainable Supplier Relationship Management Platform
Through the platform of Supplier Relationship Management (SRM), Advantech manages the life cycle of suppliers. Also, the integration of the supplier's communication channel is carried out. Platform functions include contract establishment, price/quality management, new supplier audit, existing supplier audit management, information release, etc. Online data is controlled to drive offline improvement, so sustainable supply chains are practiced.
Supplier Relationship Management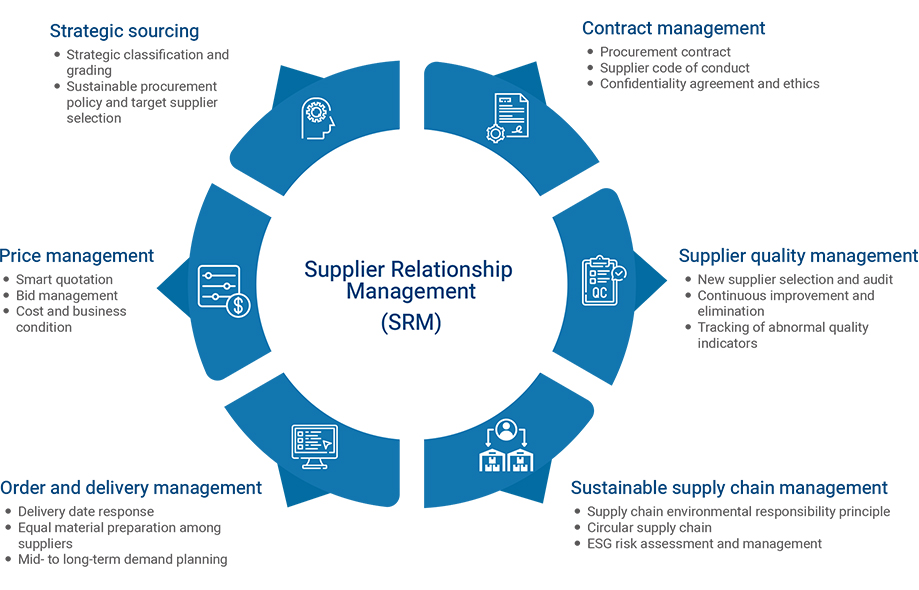 Supplier Management
In addition to the strict incorporation of environmental protection principles into the supplier management mechanism, since 2010 we have introduced the management system of the Responsible Business Alliance (RBA) (previously known as the Electronic Industry Citizenship Coalition, EICC). This expands our call for suppliers to pay attention to and promote corporate social responsibility (such as the regulations of conflict minerals). Currently, the Company's management of all supplier selection indicators includes important indicators such as RoHS (HSF) QC 080000, ISO 14001, ISO 45001 and even the localization of suppliers within RBA as well as other important corporate social responsibility indicators. Advantech requires suppliers to safeguard basic human rights and abide by labor standards. The aforementioned indicators are also included among new supplier audit items in our Supplier Audit Form.

In addition, in order to ensure that suppliers can adhere to the principle of equality of the Tripartite Declaration of Principles Concerning Multinational Enterprises and Social Policy of the International Labor Organization, the relevant management of suppliers and contractors (including security companies) has been carried out through the purchasing unit and the general affairs unit. The overall management overview is shown in Table In the future, the company will gradually increase the proportion of suppliers that meet the relevant requirements of corporate social responsibility.

For new suppliers screening, the products produced by the manufacturers have been widely used in the industry in the market. Moreover, its quality system must be verified by international standards. In addition, after the evaluation team approves the certification documents and passes them, they are listed as qualified manufacturers. The rest are subject to on-site inspection. The audit focuses on areas such as quality, procurement, and ESG sustainability management. According to statistics, a total of 220 new suppliers were implemented and 194 new suppliers were approved in 2022

*Note: The audit of existing suppliers in 2022 did not reach 100% of the plan. This is mainly due to the COVID-19 pandemic in China, and it is impossible to go to some suppliers for on-site audits.
Supplier assessment
Advantech expects to deepen the relationship with global customers and partners through a consistent global brand, and we are committed to creating sustainable corporate value. In addition to the own compliance with the RBA Code of Conduct to assess the labor, environmental, and ethical management of our operations, we also actively require sustainable management of the supply chain and promotion of the sustainable development of the supply chain. For example, suppliers are not allowed to use forced labor or child labor. If circumstances are serious, the relationship will be terminated. In 2022, no supplier terminated a partnership due to forced labor or child labor.
Advantech supplier assessment item category
Advantech also incorporates supplier ESG performance into the evaluation, and conducts ESG sustainable risk evaluations of annual key suppliers from three aspects: economic, environmental, and social. Evaluation risk factors accounted for 26.67% which includes: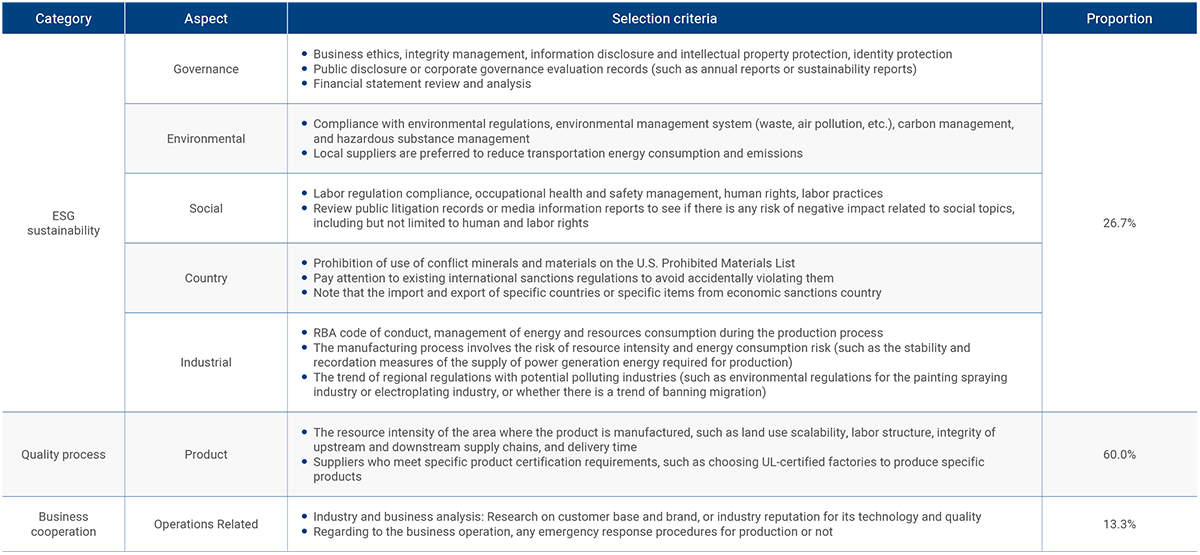 Auditing of suppliers' ESG sustainability risks
In order to implement the procurement and supply chain policy, Advantech has established a four-stage supply chain sustainable management process. Through continuous rolling improvement and cycling every year, we ensure that our suppliers meet our standards and thereby improve the sustainable performance of our suppliers.

In addition, we need to understand the sustainable development of the supply chain and grasp the sustainability risks of the supply chain. In addition to the original supplier evaluation, Advantech has improved its sustainable supplier relationship management in 2021. A new supplier ESG sustainability risk assessment form was planned and developed. This audit form is designed as Advantech's supplier ESG sustainability risk assessment form. It refers to the latest RBA7.0, plus the requirements of other customers for sustainable supply chain, and the items that Advantech should investigate to improve the core spirit of sustainable supply chain management. Also, it is planned to be evaluated every two years. In 2021, Advantech conducted a comprehensive written sustainability risk survey on 271 significant suppliers. Suppliers with potentially high risks are identified in terms of governance, environmental and social aspects. In addition, in 2022, significant suppliers with high sustainability risks were actually audited and counseled. Its risks are ensured to be effectively controlled and reduced to meet Advantech's sustainability standards

Sustainability Risk Audit Results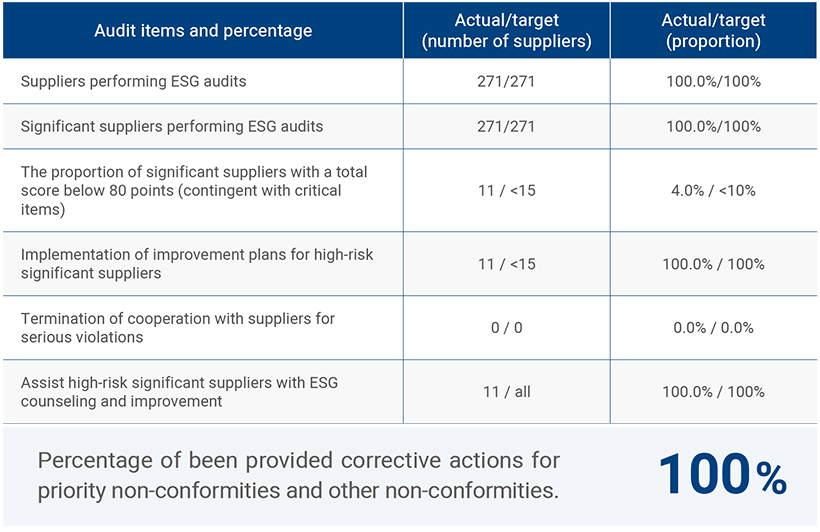 Supplier Audit Deficiencies and Improvement Actions in 2022

Supplier Improvement Program
In terms of improvement plans for suppliers, Advantech plans supplier coaching and training as well as innovative cooperation with suppliers. Preliminary results have been achieved in 2022, including on-site visits to some suppliers with higher carbon emissions (6 suppliers including PCB, Power Supply, and Panel / accounting for 2.2% of material suppliers). Advantech's carbon management experience sharing is illustrated. Also, its industry benchmark carbon management cases are provided for reference as educational training. Also, it is required to formulate the company's future carbon management plan. Moreover, sustainable carbon management trends and education training courses for all first-tier suppliers are provided. In addition, Advantech and power supply suppliers evaluate the use of new power supplies to improve energy efficiency. Also, the internal product department is coordinated to introduce higher-efficiency power supplies and replace lower-level power supplies according to project requirements and international standards, so as to comprehensively improve product power efficiency.

After 2023, we will continue to cultivate and train suppliers. Suppliers are provided with resources and work together to incubate new technologies and apply new materials. The following is the planning of the projected project plan:

Conflict Minerals Sourcing Strategy
Advantech follows the Responsible Business Alliance (RBA) Code of Conduct to implement the policy of not using conflict minerals. In addition to our own declaration and commitment not to accept the use of metals from conflict mining areas, we also require Advantech's suppliers to abide by and make commitments to ensure that Advantech's supply chain respects human rights and does not have involvement in conflict activities. As of 2022, 100% of Advantech Preferred Vendor List had signed the Declaration of Non-Use of Conflict Minerals In addition, none of Advantech's own products use conflict minerals.

Advantech communicates its policies and requirements for not using conflict minerals to suppliers through the Company's green procurement website, requiring the Preferred Vendor List to comply with and communicate to their next-level suppliers. In addition, we require suppliers to conduct a reasonable degree of mineral source country investigation (RCOI) to identify and confirm the source of conflict minerals in manufacturing and service products (3TG*) to determine whether they come from conflict areas. RCOI investigation consists of the following steps:

1. Signing of pledge: Members of the Preferred Vendor List have signed a letter of commitment to confirm compliance with Advantech's conflict minerals policy, guaranteeing correct and complete disclosure of their smelter sources.
2. Investigate: Through the Conflict Minerals Reporting Template (CMRT), conduct an investigation on the source of minerals used by suppliers and identify the source of the 3TG smelter.

3. Due diligence: Advantech's supplier risk identification and evaluations are carried out in accordance with the due diligence guidelines procedures formulated by the Organization for Economic Cooperation and Development (OECD).

According to the 2022 conflict minerals due diligence results, we have identified 259 smelters in our supply chain. Among them, a total of 249 smelters are eligible-compliant per the standards of the Responsible Minerals Assurance Process (RMAP) (or equivalent cross-accreditation assessment) and a total of 10 are participating in the plan, and the qualified smelter ratio is 96.14%.*Note: 3TG refers to minerals mined from the Democratic Republic of Congo and surrounding countries, such as: tantalum, tin, tungsten, gold, and other minerals.
*Note:3TG refers to minerals mined from the Democratic Republic of Congo and surrounding countries, such as: tantalum, tin, tungsten, gold, and other minerals