Employee Human Rights and Employee Rights Protection
ABLE Club teams up with Advantech Beautiful LifE to create an Altruistic Happy Enterprise
Talent Invigoration" stands as Advantech's core value, and "Working & Learning Toward a Beautiful Life" fuels Advantech's growth momentum. Through Advantech's "ABLE Club", which combines employee relations ES&R, the Foundation, and the Welfare Committee, we encourage colleagues to pursue innovative learning opportunities, experience life, and contribute to society in their spare time. Through different aspects such as sports, LOHAS, health, art, education, public welfare, and so on, we hope to deepen the emotional communication between colleagues, their family members, and society, and thereby boost our team spirit! In addition, we also support colleagues from the workplace to society, caring for the community and promoting public welfare. Through sharing and mutual assistance, we can tangibly practice the concept of altruism and create a happy life together!
Employee Care and Welfare
We prioritize the well-being of our employees and their families, recognizing that life extends beyond work. Therefore, we provide a range of benefits, including marriage, maternity,hospital, and bereavement condolence allowances, emergency relief funds, and festival and holiday benefits (Dragon Boat Festival, Mid-Autumn Festival, birthdays). Additionally, the Company offers insurance benefits in compliance with the law, including pensions and group insurance, to ensure the security of colleagues' work and personal lives. We also promote activities related to sports, LOHAS, health, art, education, and public welfare.
List of Benefits by Region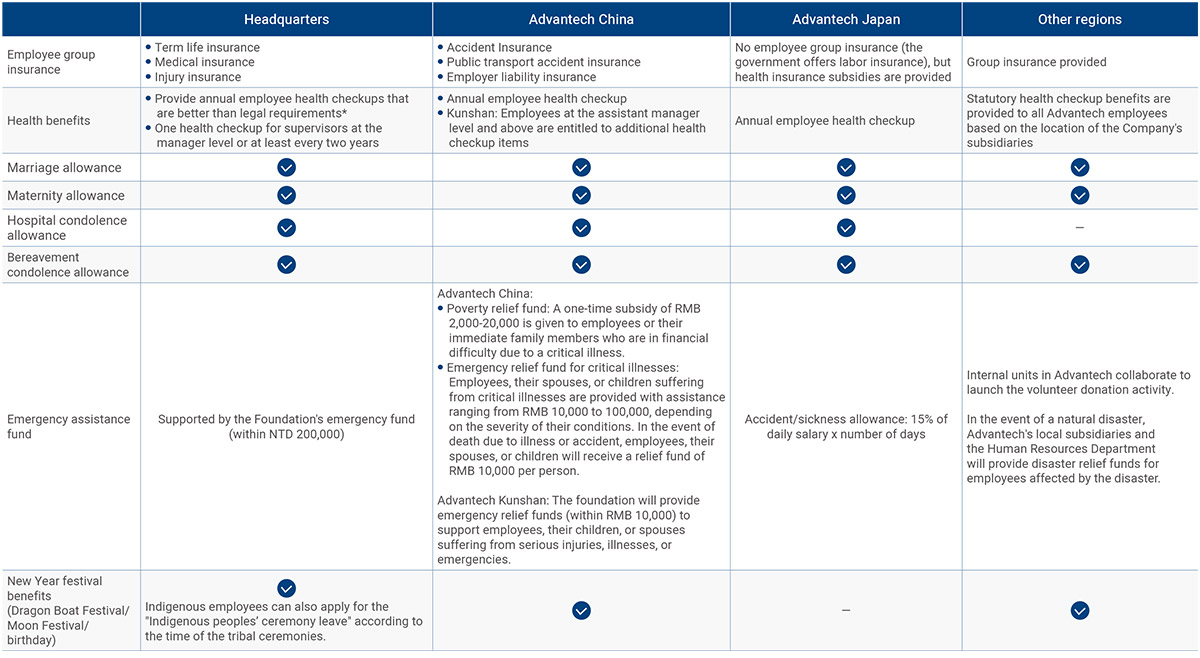 Headquarters (Taiwan): The pension system is divided into two categories. We comply with the legal requirement for monthly contributions and ensure full allocation.
1. Those retirement reserves allocated monthly in accordance with the provisions of the old pensions system are managed by the Labor Retirement Reserve Supervision Committee and deposited into a particular bank account in Taiwan in the name of the Committee.
2.The new system of pensions allocates 6% of employees' monthly salaries to their pension accounts. Employees also have the flexibility to allocate between 0% to 6% of their salaries to their pension accounts based on personal preferences. The company deducts the allocated amount from employees' salaries each month.
Mainland China: In accordance with the relevant laws and regulations for retirement in mainland China. Employees who have paid into the statutory social insurance for 15 years can receive monthly pensions after retirement. Retirement age according to labor law: the retirement age for male employees is 60. The retirement age for female executives is 55, while the retirement age for female employees is 50 years old.
Japan: In accordance with the law, 9.15% is allocated to the government annuity account on a monthly basis. In addition, 1.73~2% of total monthly salaries are paid to the bank pension accounts.
Other Advantech overseas operations: The labor retirement policy is implemented in accordance with local laws and regulations.
Marriage and Childbirth Allowance
In addition to the policies mentioned above, Advantech offers marriage and childbirth allowances that exceed legal requirements. All Advantech employees are eligible to apply. Employees must submit a wedding invitation or marriage certificate, including same-sex marriages, to apply for the marriage allowance. Each person will receive a subsidy of NT$10,000. In 2022, the headquarters received 72 applications for the marriage allowance, totaling NT$720,000.

For the childbirth allowance, employees need to submit a birth certificate. Since September 26, 2022, the childbirth allowance has been increased from NT$3,600 to NT$10,000 per child. In 2022, the headquarters received 85 applications for the childbirth allowance, totaling NT$498,800.
According to Article 16 of the Act of Gender Equality in Employment in Taiwan, Advantech provides parental leave to its employees in Taiwan. After completing six months of employment, staff members are eligible to apply for parental leave until each of their children reaches the age of three. The maximum duration of the leave period is two years. However, there are no specific regulations regarding parental leave in China besides statutory maternity and paternity leave. In Japan, labor laws allow for parental leave applications for children under one year old, with salary subsidies provided by the Japanese government during the leave period.

At Advantech Headquarters (Taiwan), the parental leave application rate for all employees (including both male and female employees) in 2022 was 10.46%, with a reinstatement rate of 41.18%. In 2021, the retention rate of employees who continued to work for more than one year after returning from childcare leave was 73%. Both the application rate and the rate of employees continuing to work for more than one year after reinstatement have increased compared to 2021* . Female employees' application and reinstatement rates are significantly higher than male employees.

At Advantech Japan including the Japanese factory), six employees applied for parental leave in 2022, all of which were reinstated upon their return.
Note: In 2021, the parental leave application rate of all employees was 7.85% and the reinstatement rate was 53.85%. Those who continued to work for more than one year after reinstatement from childcare leave in 2020 (retention rate) was 71.43%.
Family Care Leave/ Working-from-home Arrangements
Taiwan has been affected by a local pandemic outbreak in the past two years. Many employees have had to bear the dual responsibility of work and family caregiving, resulting in significant pressure. To assist our colleagues in managing the demands of family caregiving and work within the social framework, Advantech has actively supported employees in applying for family care leave and work-from-home arrangements to adapt to the new work models during the pandemic.

In 2022, which marked the pandemic's peak in Taiwan, the proportion of Advantech employees applying for family care leave also increased.
Overview of Advantech's family care leave by region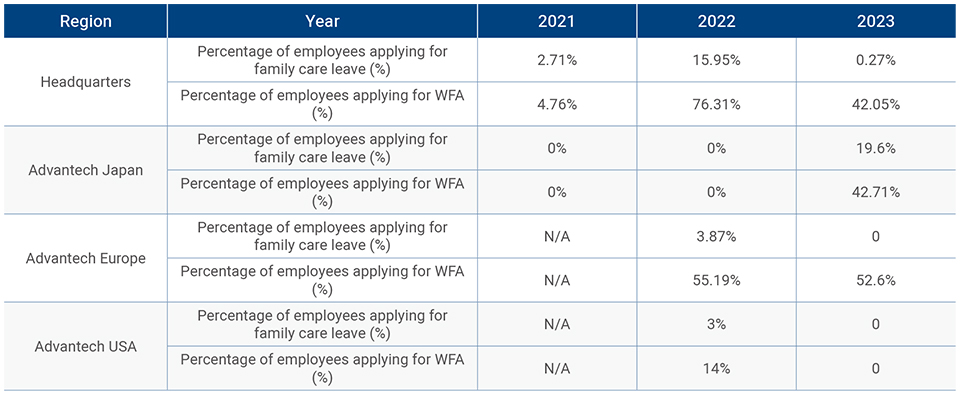 *Note: Advantech China and the Advantech China Kunshan factory do not have mechanisms for family care leave or work-from-home applications. Work from home was mandatorily implemented only in response to the pandemic in accordance with local government regulations.
Employee Assistance Programs (EAPs)
Recently, "Employee Assistance Programs (EAPs)" plays a very important role for companies on assisting employees with their work, life and health issue through systematic services and resource integration.

Advantech had imported EAP services since December 2021, providing 24-7 free and unlimited telephone and email consultation services with complete confidentiality.

Therefore, Advantechers can obtain consultation and assistance regardless of difficulties from mentality, health, legality, finance, etc.
Employee Health Initiatives
Advantech provides colleagues with free health checks every year (exceeding regulatory requirements by providing extraordinary checks such as fecal occult blood, cancer screenings, etc.). The number of people in each examination round was reduced in 2022 in consideration of the need for pandemic prevention to ensure that medical examiners maintain a social distance. Furthermore, clean-up operations are strictly implemented so that colleagues can undergo examinations with peace of mind. A total of 16 health checks were performed in 2022 for a total of 3,698 individuals (including dependents).
We recognize the need to minimize the risk of infection for colleagues entering and leaving medical institutions, and consider the fact that that many colleagues are busy with their work and are unable to take time to go to the pharmacy to collect chronic prescription medications. Starting from January 2021, Advantech has therefore specially cooperated with the "Call a Pharmacist" drug delivery platform to provide in-company drug delivery and drug collection services every month (including collections on behalf of dependents), so that colleagues can receive their medications quickly and conveniently. About 20 colleagues benefit from this service every year to reduce the risk of entering and leaving the hospital.
In 2022, the weight loss competition of the health initiatives activity "Gorgeous Appearance in Hot Summer" was held. A total of 515 people participated, and a total of 845.5 kg was lost. Good eating concepts and regular exercise habits of colleagues were cultivated during the promotion period of the event.
In 2022, a total of two health lectures were held (onsite and online) to care about the brain health of colleagues, as well as self-care and coping issues under the pandemic.
Diverse and Enriching Community Activities
Advantech has encouraged colleagues to set up and develop diverse community activities to promote more interaction among colleagues and achieve work-life balance. In 2022, a total of 21 associations were established in Taiwan including those encompassing sports, LOHAS, arts and culture, and charities with more than 1,000 participants. In the mainland China region (including all offices), there are 75 associations with more than 1,900 participants; 7 associations have been established in Advantech Kunshan Factory with 229 participants.
2022 Blood Donation Activities of Charity Club
Corporate Volunteers in 4 Areas
Taking from the society, giving back to the society. Advantech encourages our colleagues to participate in volunteer activities and contribute to others. Meanwhile, we hope that our colleagues can obtain experiences and skills that cannot be accumulated in the general working environment from volunteer activities. In 2022, Advantech has accumulated a total of 326 hours of volunteer service. Advantech and Eden Volunteer in Cloud thereof contributed a total of 29 hours to accompany the people with disabilities from all over Taiwan. ACT Dreamers is an important project of Advantech to practice sustainable education. ACT Education Program implemented by Advantech Foundation to promote sustainable education. In 2022, we accumulated 18 hours of educational volunteering. Collaborating with high-quality educational partners, we jointly create ACT Education Action, which introduces children to the United Nations Sustainable Development Goals (SDGs) and fosters their care for the environment from an early age. Through practical actions, we aim to cultivate the global citizenship competencies that children should possess.

In order to encourage more employees to participate in volunteer services, Advantech formulated "voluntary leave" system by the end of 2022. It provides 2 days of paid volunteer leave per person per year (16 hours in total). Also, there are four volunteer topics: Energy Conservation, Public Welfare (including environment), Education, Arts and Culture. Our employees can participate these four topics accordingly. The above policy has been formally implemented since January 2023.
2022 Beach Cleanup Activities

Volunteer service at Guandu Wetland
Each item of Advantech's pandemic prevention actions are not only guided by the Central Epidemic Command Center but also adjusted at any time by a rolling response mechanism according to the Company's circumstances. In 2022, the Company sought to sustain the physical and mental health of colleagues through the following pandemic prevention measures:

Establishment of Advantech Epidemic Prevention Response Team
Pandemic prevention information is immediately announced on the Employee Zone bulletin board and the Covid-19 employee zone.
Establishment of the WFH (Work from Home) system provided for colleagues in need to apply
Colleagues took out pandemic prevention insurance and vaccine insurance
The registration and implementation methods of rapid screening reagents are established on a weekly basis. It provides colleagues to register and distribute home-based rapid screening reagents with a total of 25,734 doses distributed.
Report forms and reporting channels for internal confirmed cases and close contacts have been established. Also, the floor pandemic prevention commander is set in units of floors to instantly grasp the development trend of the pandemic within the Company.
In order to let colleagues know information quickly, we also used the LINE community as a channel for instant messaging. We used this channel to remind colleagues of various pandemic prevention measures and update colleagues' health statuses and other information.
In order to attract and retain outstanding talent to the Company, and to enhance employee motivation and commitment to the Company, so as to jointly create benefit for the Company and its shareholders, pursuant to Article 28-3 of the Securities and Exchange Act and of the Regulations Governing the Offering and Issuance of Securities by Securities Issuers issued by the Financial Supervisory Commission and other relevant regulations, we have formulated the Company's procedures for issuance of employee stock option certificates and for stock subscription. For relevant information, please refer to the Annual Report.
Living Wages
Advantech recognizes the importance of a living wage in improving the living conditions of workers and ensuring fair compensation for their basic needs. Workers can meet the necessary expenses for food, clothing, and housing by providing a fair wage, promoting economic growth and sustainability. Advantech adheres to the living wage code and actively participates in related alliances to uphold this principle. Advantech is committed to respecting human rights and continues to engage in discussions and explore opportunities related to implementing a living wage. In 2022, we introduced a methodology to establish a living wage across 6 significant regions, including Advantech Headquarters, Advantech China, Advantech Japan, Advantech Korea, Advantech America, and Advantech Europe. Through internal cross-functional living wage workshops, we develop promotional plans aligned with national living standards. Continuous training on living wage setting and implementation is provided to our internal staff.

Advantech defines the living wage as the minimum wage our employees earn for basic working hours, excluding bonuses and overtime pay. It ensures that workers and their families can meet their basic needs, including essential expenses for food, clothing, housing, and other necessary living costs. The living wage standards at Advantech are formulated using relevant data from competent authorities, such as the Household Income and Expenditure Survey Report of the Directorate-General of Budget, Accounting, and Statistics, Executive Yuan, R.O.C.(Taiwan). By comparing the company-specific living wage with prevailing wages, we determine that our employees receive sufficient compensation to support the local standard of living.

At Advantech, we take pride in leading the industry by surpassing living wage assessments and making commitments beyond industry standards. In 2022, we covered 6,064 employees under the living wage trial, with 99% of our businesses included. We have committed to providing all our employees with a living wage. Furthermore, we aim to gradually extend this practice to include Advantech's internal full-time contractors, major suppliers, and service providers.

Mid and long-term plans to promote living wages
Advantech's commitment to our employees' living wages includes the following:
1. As a result of extensive discussions on the method and framework for living wages in 2021, we have progressively extended the principle of living wages to the 6 significant regions in 2022. The following commitments are made:
Employees were paid for a basic salary that meets or exceeds the legal minimum wage in their country. We are also committed to ensure that all employees are paid a living wage standard. This will ensure that our employees in the top six regions apply the living wage standard by 2025.
The internal salary management team will be actively engaged in discussions to formulate the salary structure for direct employees, including technical and manufacturing staff. Furthermore, we are dedicated to promoting a 100% achievement rate of the living wage in Europe and America.
2. The concept of living wages has been introduced across all of Advantech's overseas and domestic country/region, ensuring its application to all our employees. By 2030, we will have all Advantech employees (including direct employees and indirect employees) will enjoy the guarantee of living wages in the country/region where they are located.

3. Through collaborative efforts with business partners, consultants, and private organizations, Advantech has spearheaded a comprehensive promotional campaign for implementing a minimum living wage in various operations. We actively advocate for the development of a living wage that benefits individuals and societies and contributes to the growth of businesses and the overall economy.
Employee Relations and Communication
Advantech has set up multiple two-way communication channels in order to maintain smooth and harmonious employee relations. In addition to disseminating information, we also immediately listen and respond to the voices of colleagues. Through our colleagues' suggestions, we improve and optimize employee service content and workplace harmony and thereby ensure employees' rights.
Means of employee communication